More for you    


MORE FOR TEETH

at

Dental on Gregory
HCF Preferred Dentist in Sandy Bay (Hobart)
All health funds are accepted at Dental on Gregory. We are your local Hobart HCF preferred provider dentist, as part of their More For Teeth program.
This means all HCF members with extras cover get 100% back on one to two* dental check-ups every year, including x-rays and fluoride treatments as part of their More for You and More for Teeth program. HCF members can expect NO GAP to pay, when you come in to see one of our HCF recognised dentists for your routine check up and hygiene appointment. (Annual limits apply)
For more information about HCF's dental coverage, visit their website here.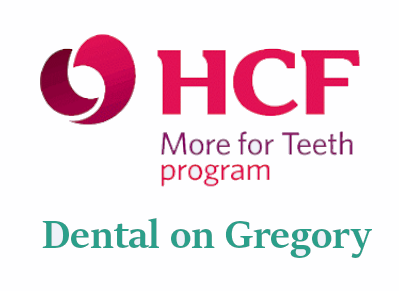 For your convenience, Saturday appointments can be arranged (please call). Online booking also available.
* Extras covers with 2 free check-ups and cleans every year include: HCF Top Extras, HCF Vital Extras, HCF Mid Extras and Silver Plus Extras.  Members with HCF Starter Extras receive 1 free check-up and clean yearly. If unsure, please contact HCF to check your level of cover. 
Q. Will I have an out-of-pocket expense to pay for my treatment?
HCF patients with eligible dental extras (who have not exceeded their annual limits) have no out-of-pocket expense for their annual check-up and clean at Dental on Gregory. This includes x-rays that may be needed and sports mouthguards. This is all bulk-billed through HICAPS as long as you bring your HCF card with you. If you are unsure about your annual limits, contact HCF here. 
All other treatment required (fillings, extractions etc) which may have an out-of-pocket expense will be discussed with you by your dentist before commencement. 
HCF members choice 'More For Teeth' dentist – we are your Hobart HCF preferred dentist. HCF health fund dentist in Hobart with No GAP preventive dental located on 6 Gregory Street, Sandy Bay, Hobart. Online bookings available – Book online here. Sandy Bay dentist. Hobart dentist.